Looking out the window of our San Jose hotel room Monday morning, I found myself a titch disappointed. Oooooof course. It just had to get rainy on us.
I distinctly remember looking at the 5-day outlook and it had a big yellow sun on each and every day. Promises had been broken.
I know you know what rain does to my hair. It's frizz-diculous is what it is.
So I knew it was going to be an ugly day (me, not the city) I accepted the fate and drove myself and kassidy into San Fran for our last day.
If you've never driven into San Fran it is the most amazing sight. You come around the corner and suddenly there's hills and hills of beautiful buildings as far as the eye can see. It is gorgeous!
Over the city that day was lots of pretty fog. Why do I love fog? I do not know, maybe I don't get the pleasure often enough, but I find it really beautiful.
We really had no plan to speak of. What we did was, we saw tall buildings, exited the freeway at a random street, then drove aimlessly down it until we stopped at a random meter, in front of a door, connected to a building, of which we didn't know what was behind. But on the street next to our car happened to be a sandwich board advertising an art show they had on display.
I thought, hmm... I love art. How convenient. And that is how we began our last day adventure in San Francisco!
Now I want to tell you that even though it misted (not rained, misted) on us the WHOLE bloody time, and my feet sloshed in my shoes with every footstep, and my hair was a frizzy mess, and I was wearing a jacket over a hoodie over a sweater, over another sweater over my t-shirt... the moment I stepped outside my vehicle I knew we got lucky. Ohhh so lucky.
Lucky for the fog.
Lucky for the rich beautiful saturated colors.
Lucky for the people walking by with their umbrellas.
Lucky for the lights reflecting off the street.
It was going to be a great day.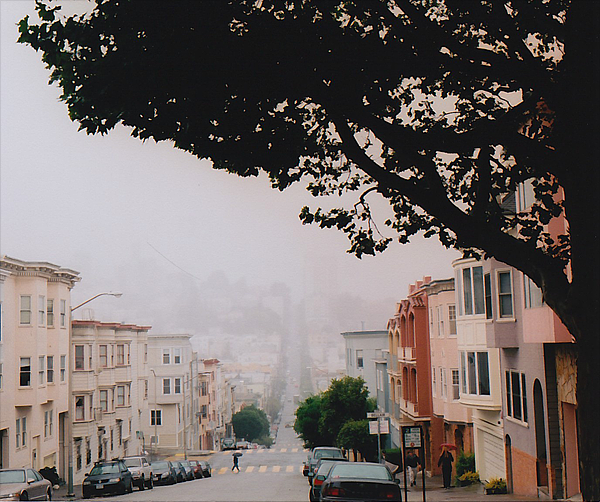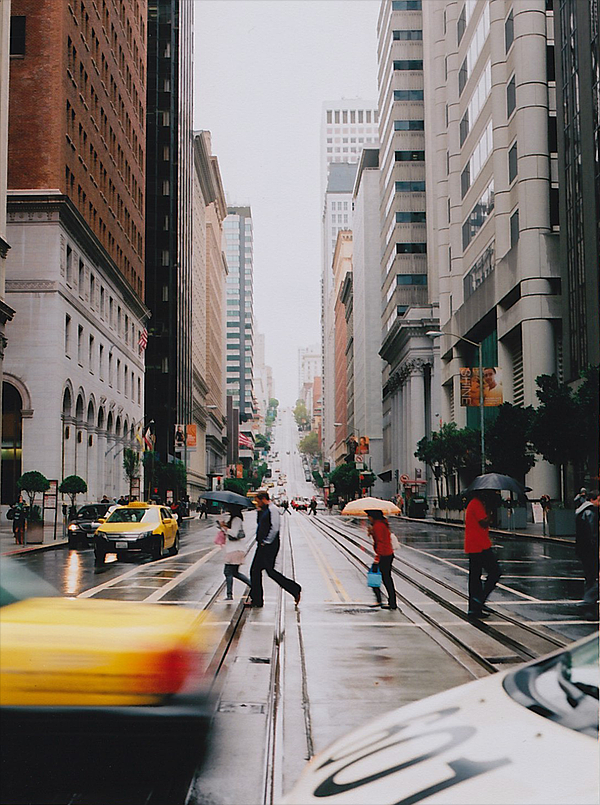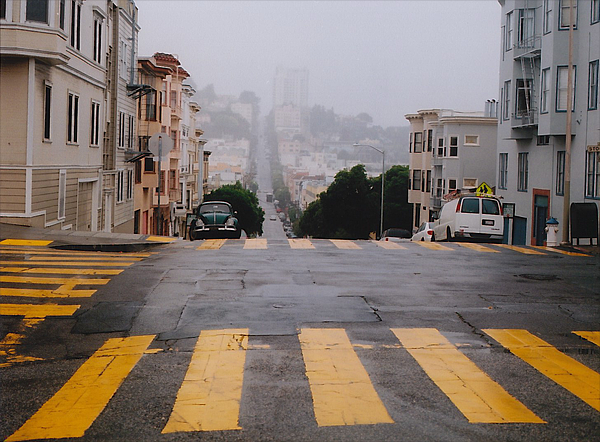 I cheater posted these color film shots on facebook, but the photo below, the one with Kassidy in it, I saved just for you, my favorite blog reader :)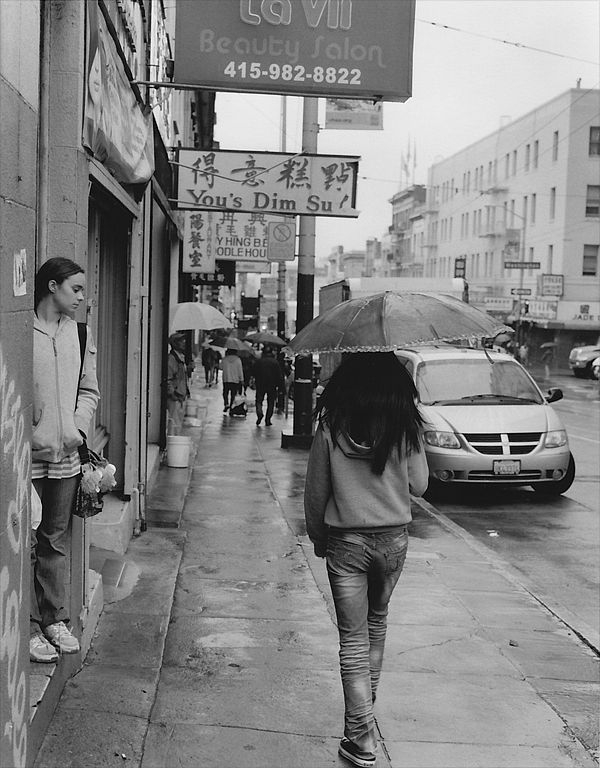 Some favorite moments:
Golden Boy Pizza
. Away from the mega hustle and bustle, sitting at the wall covered in stickers and graffiti with my girl Kass, letting my feet dry, waiting for my pesto vegetarian pizza. totally cheap. totally yum.
Paying for parking just to find a bathroom. I had to go so bad, every store we went into pointed us out the door. When we finally did find one we also found a photo booth. *worth all 500 pennies*
eating a coconut macaroon dipped in chocolate made by the guy who dropped my change 3 times because... ahem.... I made him nervous. (?) No idea, but I'm thinking it was the big hair.
Getting lost. like really lost, and laughing at ourselves when we ended up back in chinatown whilst trying to locate our car. (We were at Chinatown earlier in the day, and we thought we were in a completely different area, but apparently in all our circling/driving the wrong way down one way streets, ended up parking one block from it.)
Have you ever been lost?
After I tell you this you're going to want to go out and buy an ipad. It saved our lives.
We drove round and round trying to find a place to park. We were somewhere in the middle of all the really tall buildings, thats what I knew. I finally found a spot on the street at a parking meter, just like I wanted. Then we started walking, aimlessly. we turned about 2 or 3 corners and I thought oh no! What street did we park on?? Kassidy didn't know either. So we noted the current location, figured it was pretty close right? Corner of blank and blank. Yeah... because we forgot that about two shakes later.
We're a sad case.
One lucky thing. I remembered when we parked, as soon as I got out I started looking around for something interesting to photograph. There was a bridge that went over the street. I only noticed it because people were walking across it with their umbrellas. And I also knew I took a photograph on California st. (see above) so I zoomed in really close to that area and found the bridge that crossed over the street! I dropped a pin and hit directions. led us straight there.
Did I mention I drove the wrong way down a one way street?
We may not be welcome back.
I <3 you SF.
I coming back.